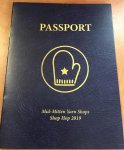 We are excited to announce that this year we have SEVEN shops participating. The Mid-Mitten Shop Hop now has: Sticks & Strings - Lansing, Yarn Garden -Charlotte, Woven Art -East Lansing, Stitch in Time -Howell, Unwind Yarn Shop -Brighton, Artisan Knitworks -Chelsea and Spun -Ann Arbor.
Buy the $10 passport, and travel to the seven shops from Thursday, September 19 - Sunday, September 22nd. Your home shop (where you buy your passport) will provide you with a Shop Hop reusable tote bag. Go to each shop during the event, get your free pattern, find Shop Hop specials, get your passport stamped, and get entered for daily drawings. If you get to all seven shops and get your stamp for each one, you can enter for the Grand Prize Drawing - a $35 gift certificate FROM EACH SHOP.
This is such a fun event that is organized by your local shops. Grab a friend or two, make a plan and share four days of Fiber FUN!